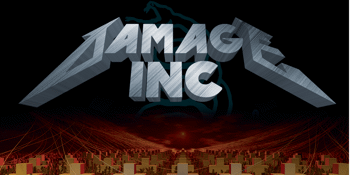 Damage Inc - The Australian Metallica Show
Leichhardt Hotel (Rockhampton, QLD)
Saturday, 26 March 2022 8:00 pm
They don't come much bigger than Metallica. Now celebrating their 40th anniversary, the metal giants have released many classic albums and play an integral part in the history of heavy music.
Two such albums are "Master of Puppets" released in 1986, and the self titled "Black", album, released in 1991. Both are monster albums in their own right and defining moments in Metallica history.
In 2021, both albums enjoy milestone anniversaries, the 35th and 30th anniversaries respectively, and what better way to celebrate these iconic albums than with a tribute show dedicated to both, in their entirety.
Damage Inc
. is one of Australia's longest-running tribute shows and, arguably, the premier Metallica tribute show in the region. For 17 years, the band has been keeping the Metallica flame alight for local audiences with hard-hitting, energetic, live shows replicating the Metallica sound, note for note.
Most recently the band embarked on and continues to play, shows with a 24 piece orchestra delivering Metallica's "S&M" set to sold-out theatre crowds.
Now with the Master of Puppets and Black anniversaries, the band has taken their powerhouse show on the road, hitting the capital cities with sold-out shows in some of the country's finest rock venues.
Silverback Touring
is stoked to announce that the tour has been extended and will now visit Maroochydore, Rockhampton, Cairns, Townsville, Hobart, Darwin as well as a visit across the ditch to Auckland.
Damage Inc will perform both albums plus an encore of fan favourites, in a show that is an absolute must for any Metallica or metal fan!
_____________________________________________________________________________________________
Important Information For All Ticket Holders
: All ticket holders must acknowledge that the venue is or may become subject to public health orders or advice providing that patrons are vaccinated, are medically exempt from vaccination or are able to provide evidence of their Covid-19 free status prior to entering the venue. It is a condition of the booking that patrons abide with any Covid-19 checking-in or verification procedures that the venue implements to address the public health orders or advice. For more information visit https://www.ausvenueco.com.au/safe-socialising-policy/