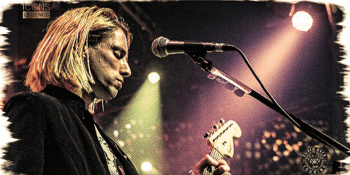 Silverback Touring and Icons & Legends Presents
NIRVANA TRIBUTE (U.K)
The Gov - Main Room (Hindmarsh, SA)
Thursday, 9 June 2022 7:30 pm
In December 2019, before the world turned upside down, the United Kingdoms tribute to Nirvana, titled in its own simplicity as "Nirvana Tribute", travelled to Australia for a whirlwind four city tour to sold out audiences that left both Nirvana fans and '90s rock fans screaming for more. Pre-tour, there was a sense of curiosity, a degree of doubt (as there always is with tribute shows) and a major sense of excitement given that this particular Nirvana show (now in its thirteenth year) has been travelling the globe paying tribute to their idols to rave reviews.
Loudwire describes frontman Jon O'Connor as "the closest you will come to hearing Cobain's voice in person". Backed by the solid rhythm section of Moyano el Buffalo (drums) and Ally McLachlan (bass), on the trio and their tribute to Nirvana, O'Connor says, "if you want to relive that feeling, if you want to have that feeling again, if you want to experience that energy and that kind of feeling of chaos at any moment, and the energy and that rush of sound from the stage, this is it".
2022 sees the thirtieth anniversary of Nirvana's only Australian Tour and to celebrate this milestone anniversary, Silverback Touring is proudly bringing the Nirvana Tribute back down under to perform the entire 1992 Australian tour set list, song for song, note for note, as well as a set of Nirvana classics and fan favourites in one massive show.
The tour will visit both capital cities and some regional areas.
On the last tour, Heavy Mag said, "if you have even a remote love of Nirvana or want to see a masterclass on how to do a tribute to your idols, do whatever you can to get there. Count me in for another dose, and an attempt to get a bigger chunk of broken Fender, when they return."
This show is simply a must for any Nirvana fan or fans of the genre and a rare opportunity to be transported back to the '90s when both the airwaves and pop culture were ruled by an unassuming trio out of Seattle.

Tickets from silverbacktouring.com